Mitsubishi Outlander Sport Plainfield Indiana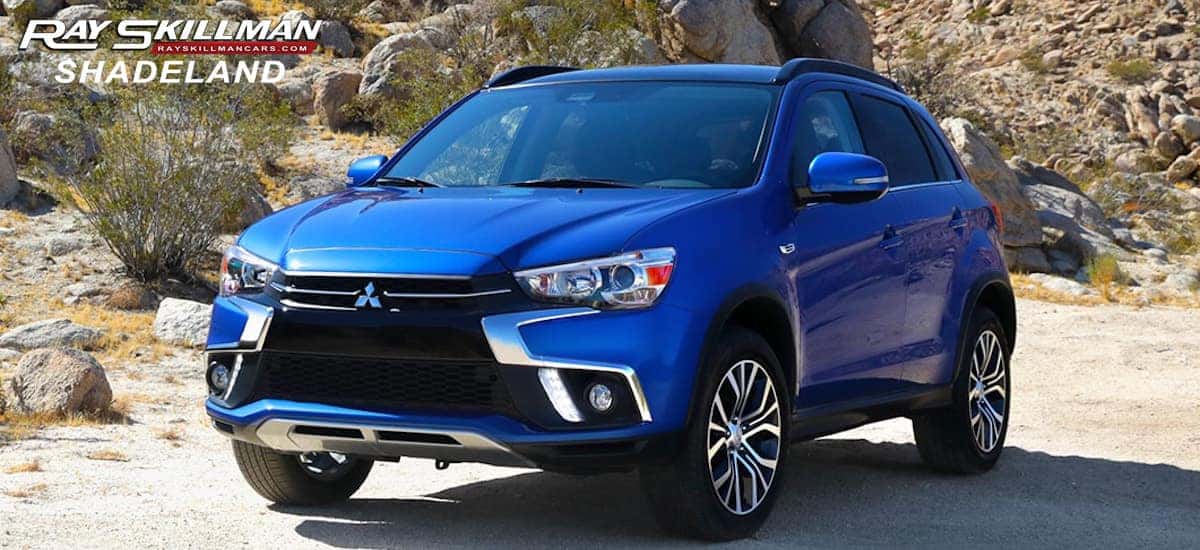 Ray Skillman Shadeland KIA Mitsubishi
Outlander Sport – The Loaded SUV Without The Hefty Price Tag
It doesn't take long to fall in love with the all-new Mitsubishi Outlander Sport. Ray Skillman Shadeland KIA Mitsubishi is here to make a proper introduction.
What is it about the Mitsubishi Outlander Sport that has people buying, and loving this sporty SUV year after year? How about Mitsubishi's idea to not follow suit when it comes to the same cookie-cutter look of today's crossover vehicles. How about the amazing value and lifetime powertrain warranty that comes with all new Mitsubishi vehicles? There are so many wonderful things we can say about the Outlander Sport, let's start with some of the most common questions we get. What features can I get inside of my Mitsubishi Outlander Sport?
Some Serious Safety
Some of the most exciting additions to the new Outlander Sport are in the safety and entertainment categories. Active stability control engages a series of sensors that actively monitor the grip of each tire. If a wheel starts to lose traction, ASC automatically works with the Anti-lock Braking System to assist in maintaining control of the vehicle in almost any situation. We found this feature to be helpful during deer season when you are trying to avoid our woodland friends. A few other honorable mentions to the safety category is lane departure safety system and Forward Collision Mitigation System, both these systems actively keep you and your passengers safe.
Let The Good Times Roll
In the entertainment category, we must highlight the new and improved seven touchscreen audio system. This new audio upgrade links you to the outside world, Crystal clear Bluetooth connectivity through android auto and Apple CarPlay. For you music enthusiasts you also have the option of upgrading to the Rockford Fostgate Premium sound system. This includes 9 speakers and one 10-inch dual voice coil subwoofer. This bad boy will keep you wrapped in musical ecstasy.
An SUV with All Wheel Drive
Yes. You heard that correctly. We know that it can be very hard to find dealers who have a steady supply of SUVs with all-wheel-drive. Here at Ray Skillman Shadeland KIA Mitsubishi, we understand how having AWD on your SUV can improve your driving in and around Plainfield. So why is all-wheel-drive important? In a world where perfect driving conditions are few and far between all-wheel-drive can be a major benefit. In our neck of the woods driving conditions vary with weather and location. I don't have to tell you how dangerous snowy and icy roads can be. All-wheel-drive can apply power to all four wheels, allowing you better control in these dangerous situations. Front-wheel drive vehicles only give power to the front tires, vice versa for rear-wheel Drive. All-wheel-drive can help you from spinning out or from getting stuck in mud or sand.
What's The Big Deal With Mitsubishi's Warranty?
Well, for starters, it's completely awesome. Many new car companies provide some kind of warranty with the purchase of a new vehicle. These warranties can cover the basics from an oil change to routine maintenance. However, Mitsubishi gives you the benefit of a 10 year/100,000-mile Powertrain Limited Warranty! This is huge because it covers the parts of the vehicle that provide power and make it move. Typically that includes the engine, transmission, and drivetrain. You have questions about the warranty are trained sales in-service specialist can help answer your questions. You can also schedule a time to stop by Ray Skillman Shadeland KIA Mitsubishi to ask any questions regarding the new Outlander Sport, or any other Mitsubishi model.
At Ray Skillman Shadeland KIA Mitsubishi, we care about our customers. We offer flexible financing, special offers, and excellent customer service to ensure that everyone who visits our dealership has a positive experience.
We take pride in making certain our staff delivers the most pleasant vehicle-buying experience, period. We're not like most dealers that look at every transaction as a sale. Our goal is to truly partner with our customers to establish an ongoing relationship in ownership. When you buy your new Outlander Sport from Ray Skillman Shadeland KIA Mitsubishi, you're buying your own personal service crew that will keep you on the road and up-to-date for years to come.

New Outlander Sport Plainfield
Ray Skillman Shadeland KIA Mitsubishi has the perfect new Outlander Sport for you. Find it here, along with Plainfield' best service and value.

Pre-Owned Mitsubishi Plainfield
A fun, ultra-reliable lineup of vehicles like Mitsubishi is always in high demand. That's why we also carry an exciting selection of pre-owned models from which to choose.

Incentives and Rebates
Why not enjoy your new Mitsubishi along with the Ray Skillman Shadeland KIA Mitsubishi discount? You can have your cake and eat it, too.
Experience the Skillman Difference
Buying a vehicle is a special experience. We understand that this isn't something our customers do every day, which is why we treat every interaction with the respect that it deserves. Ray Skillman has served the Plainfield market for decades because we believe that the community and its people supersede any expectations set by a corporation. This is your community. This is our community. When you are shopping for a new or used car like the Mitsubishi Outlander Sport, you expect the experience to match the promise, which is why we are open and transparent every step of the way. Below, you will find more information about the new Outlander Sport. We hope that you'll contact us and allow us the opportunity to show you why buying from the pros at Ray Skillman Shadeland KIA Mitsubishi, is simply the best decision you can make.
Ray Skillman Mitsubishi Outlander Sport
There's more to a vehicle demonstration than picking out colors and taking a test drive. At Ray Skillman Shadeland KIA Mitsubishi, we want you to know everything that's important to you in your next new vehicle. The Outlander Sport is uniquely positioned in the Plainfield market to satisfy the needs of practical fun lovers everywhere – the Outlander Sport has the proper mixture of exciting performance and sublime comfort that's appealing to Plainfield. Our team is here to make sure you're aware of every feature, tip, and maintenance best practice because we take pride in delivering the ultimate shopping experience for our customers. Watch this video to get your engine revving for your new Outlander Sport, and then let Ray Skillman take care of the rest.
Attention to detail is important. You won't miss a thing when you shop at Ray Skillman Shadeland KIA Mitsubishi.
---
We know you have many options when it comes to car dealers in the Plainfield area. Our hope is that you will give us the first opportunity to earn your business because of the tremendous experience, great pricing, exciting Mitsubishi selection, and our commitment to making your buying experience the most positive one you've ever had when shopping for a vehicle. We stand behind the ideal of delivering the type of respectful engagement that the people of Plainfield deserve. If you give us the first opportunity, you'll see why our customers come back time and time again.
---
WHY RAY SKILLMAN SHADELAND KIA MITSUBISHI?
---
Some dealerships take pride in their sales numbers. Others point to their P&L statements to determine their success. At Ray Skillman Shadeland KIA Mitsubishi, the most important indicator of whether or not we're successfully achieving our goals is when YOU are overwhelmed by our outstanding customer experience. It goes beyond satisfaction. We want you to be ecstatic with the way you were treated and impressed with how easy it was to get the best Mitsubishi deal in Indiana. Your opinion is the one that matters to us at Ray Skillman Shadeland KIA Mitsubishi. It's what drives our success.
---
Customers Come First
See What Our Customers Are Saying
---
---
Your Mitsubishi Shopping Experience
We hope we've answered most of your questions about why you should consider Ray Skillman Shadeland KIA Mitsubishi as your first choice when shopping for a new or pre-owned Mitsubishi model. If you are ready to learn more, please contact us through your preferred method of communication and ask us anything you'd like to know. If you're ready to schedule your test drive, please use the form below. At Ray Skillman Shadeland KIA Mitsubishi, you control your shopping experience. We're here to help facilitate and to be your own personal Mitsubishi experts.