Mitsubishi Mirage Greenfield IN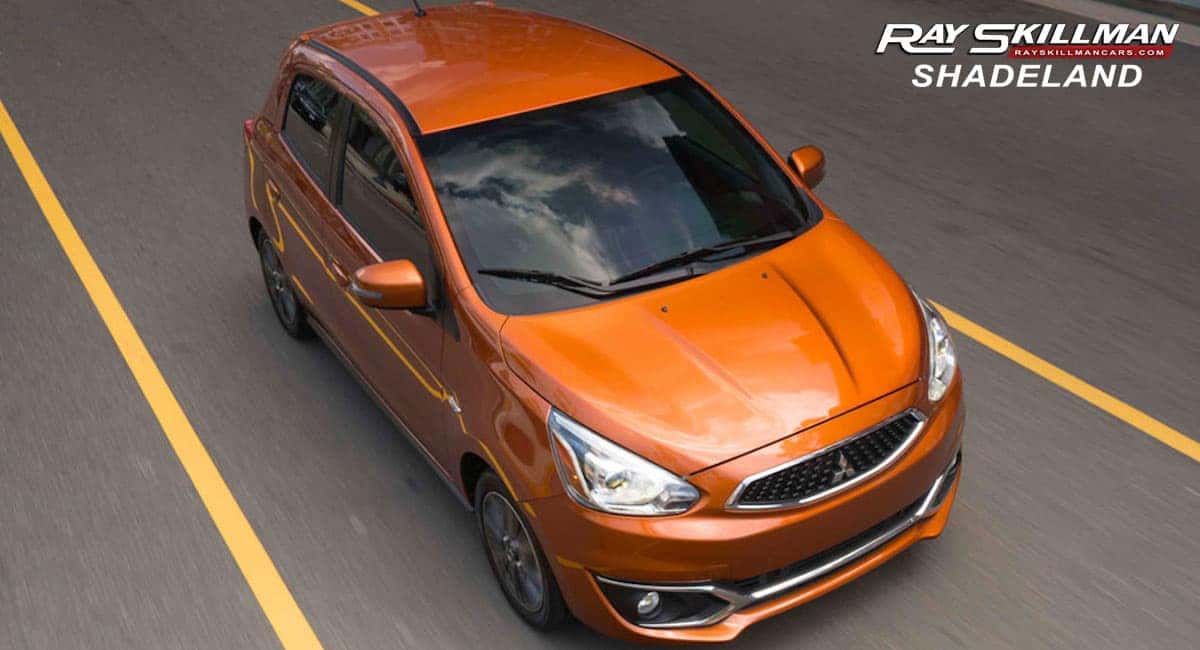 Ray Skillman Shadeland KIA Mitsubishi
The All-New Mitsubishi Mirage – You Won't Believe Your Eyes
The Mitsubishi Mirage is the affordable and fun to drive car in Greenfield, IN. Let Ray Skillman Shadeland KIA Mitsubishi show you the Mirage today.
If you want a fun to drive car that won't break the bank then there is no better way to accomplish these tasks than with the Mitsubishi Mirage. It is stylish, affordable, and has all of the features you want in a vehicle. The bonus? It is fuel efficient too so you save even more money. If you are ready for a test drive, come into Ray Skillman Shadeland KIA Mitsubishi.
Save Money
Who doesn't like to save money? Everyone loves a bargain and there is no better deal than the Mitsubishi Mirage. You can afford a new car and keep more of your hard-earned cash in your wallet if you shop smarter and pick a car that saves you big. The Mirage is a great value and has an MSRP of just $13,395, which puts it within range of most people's budget. It is a great starter vehicle for teens or those fresh out of college and can be a great value for those families that need a second vehicle. This low price equates to a lower monthly payment that is sure to work within your budget too. With an EPA estimated fuel economy of 37 miles per gallon in the city and 43 miles per gallon on the highway, this is a great car to save you big money at the gas pump because you won't have to stop as often to fill up. This saves you time too. If you can't wait to start saving money on your new Mirage, come into Ray Skillman Shadeland KIA Mitsubishi today.
Style & Comfort
Who says that affordable can't equal stylish? When you choose the affordable Mitsubishi Mirage you can have the best of both worlds. It has a unique design that sets it apart on the road. You are sure to be seen in the Mirage and who wouldn't want to be? Would you be surprised if we told you that the Mirage is roomy? The Mirage offers plenty of room for passengers and cargo, but when you need more cargo room, the rear seats fold flat for a maximum cargo capacity of up to 47 cubic feet! Even with the seats up, you get a whopping 12.2 cubic feet to take along all you need for your ride. The Mirage features a Fast Key Entry System with Push Button Start that allows you to jump inside and start your engine without even removing the keys from your pockets! Heated front seats act to not only warm your body but soothe an achy back after a long day at the office too. Take a look at the style and comfort inside of the Mirage at Ray Skillman Shadeland KIA Mitsubishi.
Tantalizing Technology
We think you will be pleasantly surprised with the amount of technology inside of the affordable Mitsubishi Mirage. It is packed with smart tech that connects you and entertains you for a better drive. Imagine you are heading to the office and you want to know if anyone needs coffee. The Mirage gives you a better way to get an answer with Apple CarPlay and Android Auto. These features allow you to send a text message to the office to get the coffee order, get turn-by-turn on-screen directions with real-time traffic updates to the nearest coffee shop, call your client for an update, add a new appointment to your calendar, then stream your favorite music all with the sound of your voice using the Bluetooth technology inside. You can get more done in one single trip and we can show you how these features work at Ray Skillman Shadeland KIA Mitsubishi today.
Explore the Incredible Selection At Ray Skillman Shadeland KIA Mitsubishi
Ray Skillman Shadeland KIA Mitsubishi is your one-stop shop for the Mitsubishi Mirage as well as the entire lineup of Mitsubishi vehicles. We are proud to offer you a strong inventory of vehicles to choose from in one convenient location so you won't have to go anywhere else to find the Mirage of your dreams. In fact, we have over 20 on our lot right now in various colors, models, and options so you can take your pick. If you aren't sure which one works for you, let our team of product specialists help you navigate through the decision so you know you are getting the perfect match for you. Come in and get started today.
At Ray Skillman Shadeland KIA Mitsubishi, we care about our customers. We offer flexible financing, special offers, and excellent customer service to ensure that everyone who visits our dealership has a positive experience.
We take pride in making certain our staff delivers the most pleasant vehicle-buying experience, period. We're not like most dealers that look at every transaction as a sale. Our goal is to truly partner with our customers to establish an ongoing relationship in ownership. When you buy your new Mirage from Ray Skillman Shadeland KIA Mitsubishi, you're buying your own personal service crew that will keep you on the road and up-to-date for years to come.

New Mirage Greenfield
Ray Skillman Shadeland KIA Mitsubishi has the perfect new Mirage for you. Find it here, along with Greenfield' best service and value.

Pre-Owned Mitsubishi Greenfield
A fun, ultra-reliable lineup of vehicles like Mitsubishi is always in high demand. That's why we also carry an exciting selection of pre-owned models from which to choose.

Incentives and Rebates
Why not enjoy your new Mitsubishi along with the Ray Skillman Shadeland KIA Mitsubishi discount? You can have your cake and eat it, too.
Experience the Skillman Difference
Buying a vehicle is a special experience. We understand that this isn't something our customers do every day, which is why we treat every interaction with the respect that it deserves. Ray Skillman has served the Greenfield market for decades because we believe that the community and its people supersede any expectations set by a corporation. This is your community. This is our community. When you are shopping for a new or used car like the Mitsubishi Mirage, you expect the experience to match the promise, which is why we are open and transparent every step of the way. Below, you will find more information about the new Mirage. We hope that you'll contact us and allow us the opportunity to show you why buying from the pros at Ray Skillman Shadeland KIA Mitsubishi, is simply the best decision you can make.
Ray Skillman Mitsubishi Mirage
There's more to a vehicle demonstration than picking out colors and taking a test drive. At Ray Skillman Shadeland KIA Mitsubishi, we want you to know everything that's important to you in your next new vehicle. The Mirage is uniquely positioned in the Greenfield market to satisfy the needs of practical fun lovers everywhere – the Mirage has the proper mixture of exciting performance and sublime comfort that's appealing to Greenfield. Our team is here to make sure you're aware of every feature, tip, and maintenance best practice because we take pride in delivering the ultimate shopping experience for our customers. Watch this video to get your engine revving for your new Mirage, and then let Ray Skillman take care of the rest.
Attention to detail is important. You won't miss a thing when you shop at Ray Skillman Shadeland KIA Mitsubishi.
---
We know you have many options when it comes to car dealers in the Greenfield area. Our hope is that you will give us the first opportunity to earn your business because of the tremendous experience, great pricing, exciting Mitsubishi selection, and our commitment to making your buying experience the most positive one you've ever had when shopping for a vehicle. We stand behind the ideal of delivering the type of respectful engagement that the people of Greenfield deserve. If you give us the first opportunity, you'll see why our customers come back time and time again.
---
WHY RAY SKILLMAN SHADELAND KIA MITSUBISHI?
---
Some dealerships take pride in their sales numbers. Others point to their P&L statements to determine their success. At Ray Skillman Shadeland KIA Mitsubishi, the most important indicator of whether or not we're successfully achieving our goals is when YOU are overwhelmed by our outstanding customer experience. It goes beyond satisfaction. We want you to be ecstatic with the way you were treated and impressed with how easy it was to get the best Mitsubishi deal in Indiana. Your opinion is the one that matters to us at Ray Skillman Shadeland KIA Mitsubishi. It's what drives our success.
---
Customers Come First
See What Our Customers Are Saying
---
---
Your Mitsubishi Shopping Experience
We hope we've answered most of your questions about why you should consider Ray Skillman Shadeland KIA Mitsubishi as your first choice when shopping for a new or pre-owned Mitsubishi model. If you are ready to learn more, please contact us through your preferred method of communication and ask us anything you'd like to know. If you're ready to schedule your test drive, please use the form below. At Ray Skillman Shadeland KIA Mitsubishi, you control your shopping experience. We're here to help facilitate and to be your own personal Mitsubishi experts.