Kia Soul Fishers IN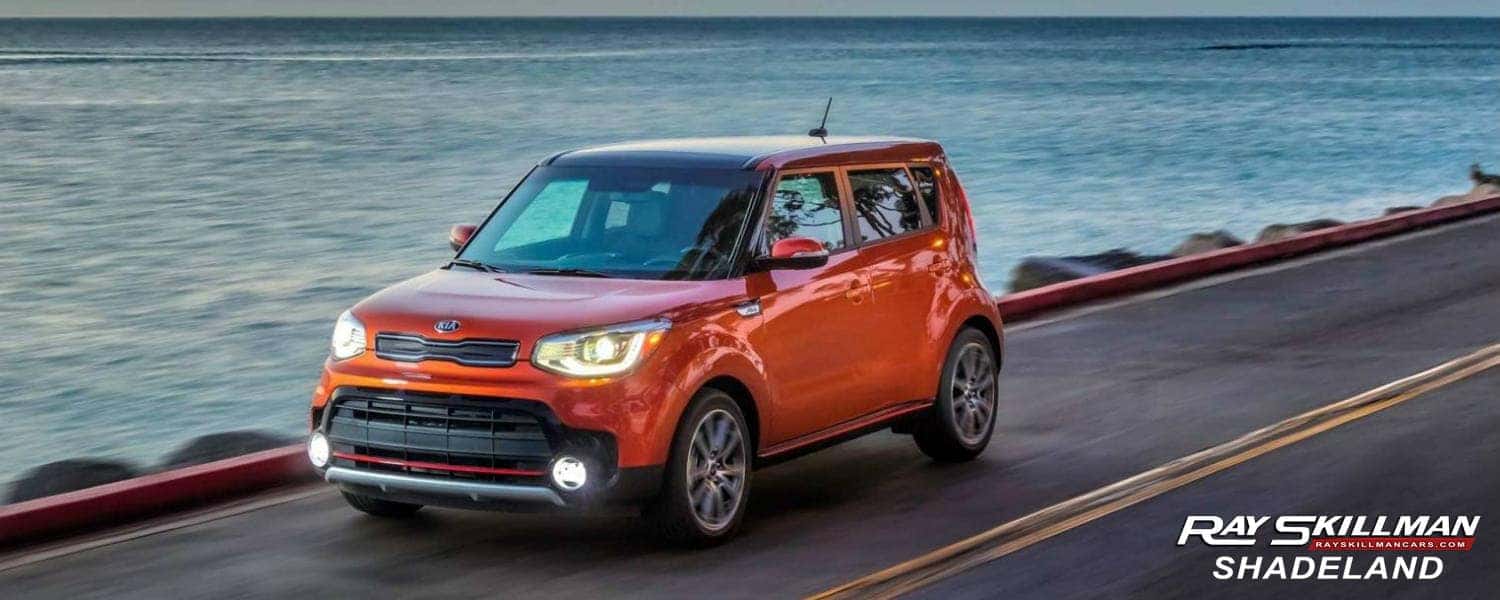 Ray Skillman Shadeland KIA Mitsubishi
The KIA Soul – Escape the Ordinary
Do you want to drive a vehicle that is not only sleek and versatile but also unique? Then let us introduce the 2018 Kia Soul! This compact crossover offers sophistication without compromising functionality.
Whether it's efficient powertrains, unbeatable technology, and safety features, or a comfortable interior that you crave, you'll find them all in the Kia Soul. Let Ray Skillman Shadeland Kia Mitsubishi introduce this one-of-a-kind vehicle to you. We know you'll love it.
Go the Extra Mile
The 2018 Soul comes with a couple different powertrain options to best suit your lifestyle. Choose from the standard 1.6-liter engine that receives 130 horsepower and 118 pound-feet of torque. This engine comes with both a 6-speed manual and 6-speed automatic transmission, so you can opt for whatever you feel most comfortable with. The automatic receives an EPA-estimated 25 MPG city/30 MPG highway, so you know you are staying fuel-efficient. Make this engine a turbocharger one and you'll receive 26 MPG city/31 MPG highway. You can also choose to drive the 2.0-liter engine, which will give you a nice 161 horsepower, 150 pound-feet of torque, and the same estimated fuel efficiency as the base model.
Impressive Features
Do you believe driving shouldn't just be getting from one point to another? So do we. Kia understands your desire to stay connected and be entertained, so the Soul comes well-equipped with a wide variety of technology features designed to elevate every single drive you take. Don't settle for boring when you can drive the Kia Soul.   
Smart technology features the 2018 Kia Soul include available Apple CarPlay™ and Android Auto™ compatibility which will keep you connected. Standard subscription-free UVO connectivity with a 7-inch Touch-Screen Display offers clever infotainment through an enhanced telematics suite or free app on your smartphone. The free UVO eServices app seamlessly connects your smartphone to your Optima, giving you access to 24-hour roadside assistance, vehicle maintenance requirements, and much more. Safety features include Electronic Stability Control (ESC), Hill-Start Assist Control (HAC), Electronic Brake-force Distribution (EBD), Brake Assist System (BAS, and Tire-Pressure Monitoring System (TPMS), to name a few. The 2018 Soul was also made to keep children safe by offering rear child-safety door locks that allow you to turn off the interior door-opening mechanism, preventing children from opening the rear doors from the inside. You can also securely and conveniently install a child seat with the Lower Anchors and Tethers for Children (LATCH) system.
Comfortable Interior
Drive comfortably with a variety of features all meant to keep you relaxed and content, so that your focus stays where it needs to be—on the road. Heated and ventilated front seats will help keep you warm (or cool) when you want, the available panoramic sunroof lets more air in, and innovative mood lighting will let you set the tone for your drive each and every time.   
Have a question about any of these features? Ask one of the experts on the Ray Skillman Shadeland team—we would love to help you out!
Let Your Soul Shine At Ray Skillman Shadeland KIA Mitsubishi
The Kia Soul is a versatile, sophisticated crossover that doesn't just help you accomplish all your daily needs—it also draws eyes to you wherever you go. Our team at Ray Skillman Shadeland is incredibly excited to introduce you to this wonderful vehicle and all it has to offer you. What are you waiting for? Let us match you to your perfect Kia Soul today. Come on out for a test drive, and prepare to make a statement.
At Ray Skillman Shadeland KIA, we care about our customers. We offer flexible financing, special offers, and excellent customer service to ensure that everyone who visits our dealership has a positive experience.
We take pride in making certain our staff delivers the most pleasant vehicle-buying experience, period. We're not like most dealers that look at every transaction as a sale. Our goal is to truly partner with our customers to establish an ongoing relationship in ownership. When you buy your new Soul from Ray Skillman Shadeland KIA Mitsubishi, you're buying your own personal service crew that will keep you on the road and up-to-date for years to come.

New Soul Carmel
Ray Skillman Shadeland KIA Mitsubishi has the perfect new Soul for you. Find it here, along with Carmel' best service and value.

Pre-Owned KIA Carmel
A fun, ultra-reliable lineup of vehicles like KIA is always in high demand. That's why we also carry an exciting selection of pre-owned models from which to choose.

Incentives and Rebates
Why not enjoy your new KIA along with the Ray Skillman Shadeland KIA Mitsubishi discount? You can have your cake and eat it, too.
Experience the Skillman Difference
Buying a vehicle is a special experience. We understand that this isn't something our customers do every day, which is why we treat every interaction with the respect that it deserves. Ray Skillman has served the Carmel market for decades because we believe that the community and its people supersede any expectations set by a corporation. This is your community. This is our community. When you are shopping for a new or used car like the KIA Soul, you expect the experience to match the promise, which is why we are open and transparent every step of the way. Below, you will find more information about the new Soul. We hope that you'll contact us and allow us the opportunity to show you why buying from the pros at Ray Skillman Shadeland KIA Mitsubishi, is simply the best decision you can make.
Ray Skillman KIA Soul
There's more to a vehicle demonstration than picking out colors and taking a test drive. At Ray Skillman Shadeland KIA Mitsubishi, we want you to know everything that's important to you in your next new vehicle. The Soul is uniquely positioned in the Carmel market to satisfy the needs of practical fun lovers everywhere – the Soul has the proper mixture of exciting performance and sublime comfort that's appealing to Carmel. Our team is here to make sure you're aware of every feature, tip, and maintenance best practice because we take pride in delivering the ultimate shopping experience for our customers. Watch this video to get your engine revving for your new Soul, and then let Ray Skillman take care of the rest.
Attention to detail is important. You won't miss a thing when you shop at Ray Skillman Shadeland KIA Mitsubishi.
---
We know you have many options when it comes to car dealers in the Carmel area. Our hope is that you will give us the first opportunity to earn your business because of the tremendous experience, great pricing, exciting KIA selection, and our commitment to making your buying experience the most positive one you've ever had when shopping for a vehicle. We stand behind the ideal of delivering the type of respectful engagement that the people of Carmel deserve. If you give us the first opportunity, you'll see why our customers come back time and time again.
---
WHY RAY SKILLMAN SHADELAND KIA MITSUBISHI?
---
Some dealerships take pride in their sales numbers. Others point to their P&L statements to determine their success. At Ray Skillman Shadeland KIA Mitsubishi, the most important indicator of whether or not we're successfully achieving our goals is when YOU are overwhelmed by our outstanding customer experience. It goes beyond satisfaction. We want you to be ecstatic with the way you were treated and impressed with how easy it was to get the best KIA deal in Indiana. Your opinion is the one that matters to us at Ray Skillman Shadeland KIA Mitsubishi. It's what drives our success.
---
Customers Come First
See What Our Customers Are Saying
---
---
Your KIA Shopping Experience
We hope we've answered most of your questions about why you should consider Ray Skillman Shadeland KIA Mitsubishi as your first choice when shopping for a new or pre-owned KIA model. If you are ready to learn more, please contact us through your preferred method of communication and ask us anything you'd like to know. If you're ready to schedule your test drive, please use the form below. At Ray Skillman Shadeland KIA Mitsubishi, you control your shopping experience. We're here to help facilitate and to be your own personal KIA experts.