KIA Sedona Carmel IN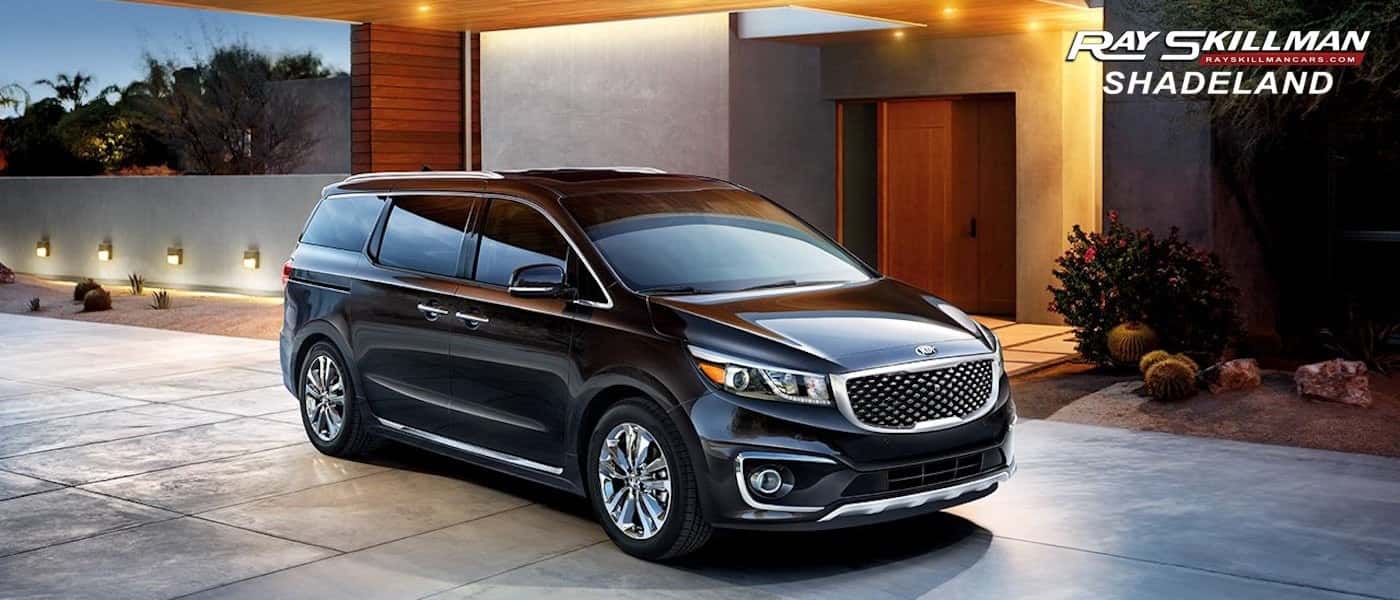 Ray Skillman Shadeland KIA Mitsubishi
The All-New KIA Sedona – Are You Read For A Road Trip?
The amazing new KIA Sedona lets you pack it up, pack them all in, and point yourself toward fun and adventure. Get in and get going at Ray Skillman Shadeland KIA Mitsubishi.
While you're enjoying all the perks of driving your Sedona, you'll also turn a few heads with a style that makes you excited about owning a minivan. Outside and in, the incredible KIA Sedona brings it home with looks that thrill and great performance, along with comfort and convenience for all.
The Design Is In The Details
The exterior of the new KIA Sedona is dynamic and modern. The Sedona's windswept lines tickle the eyes with pure excitement, as they seem to flow out quite naturally from behind the bold KIA signature grille. The Sedona is the minivan that will actually make you say, "Ooh!" It's okay to stare though, it happens to everyone. The available Power Sliding Anti-Pinch side doors open to reveal an interior environment that rivals your dream home, with all the features and amenities you could want to ensure a perfect ride for all.
A Cavern Of Comfort And Confidence
When you initially enter and explore the amazing KIA Sedona, you're going to have a lot of "wow" moments. As you start to take it all in, the first thing you'll notice is the space, best-in-class space, in fact. The Sedona can seat eight comfortably, or if your clan isn't quite that big, you can remove the second-row middle seat for captain's chairs making, even more room for everyone to get settled in. During those times when you're more loaded down with cargo than kiddos, the Slide-N-Stow third row can actually fold up underneath of the second row, maximizing your space for those big trips to Costco and Ikea. If you want to add a little extra comfort to the second-row seating, go for the available First-Class Lounge Seating. The back seat gets a serious upgrade here, as these reclining seats feature adjustable armrests and winged headrests, and even retractable footrests. Now, that's what we call "sitting in the lap of luxury." Stop into Ray Skillman Shadeland KIA and we'll take you through every detail of the incredibly exciting new KIA Sedona.
Family-Friendly Tech
In the age of electronics, and with the need to keep the little ones entertained at all times – well, let's face it, the big ones, too, the KIA Sedona is well equipped with three 12v outlets, two A/C power outlets, and two available USB rapid-charging ports. Infinity Premium Audio keeps everyone's favorite music sounding unbelievably crisp and clear, even when it's the tenth go-around on the newest Disney movie soundtrack. The Sedona's advanced tech does far more than just keep people entertained. It keeps you safe, too. The available Autonomous Emergency Braking (AEB) takes over in an instant is a potential crash is detected ahead. During those long road trips on vacation, Smart Cruise Control (SCC) maintains a safe distance from the vehicle in front of you, with out you having to use the brake and constantly try to re-engage the cruise control. Additional features like a Lane Departure Warning System keep you on the right path. These important safety options and so much more are ready to have your back in your new KIA Sedona. The dedicated team at Ray Skillman Shadeland KIA Mitsubishi also has your back. Stop in and check out your new Sedona today.
Let The Good Times Roll At Ray Skillman Shadeland KIA Mitsubishi
There's no doubt that the new KIA Sedona is the perfect addition to your family. With plenty for everyone to enjoy, you're going to completely enjoy mile, after quiet, comfortable mile inside your own new Sedona model. At Ray Skillman Shadeland KIA Mitsubishi, we also want you to be able to enjoy your Sedona along with the Carmel area's best selection and value, as well as the kind of buying experience that puts you in charge and gets you in the Sedona you want. Give us a try and experience the Ray Skillman difference firsthand. It all starts what you check out our diverse selection online now, and then contact us with your questions. We can't wait to show you all that the new KIA Sedona can do for you and yours; especially when you get it the Ray Skillman way.
At Ray Skillman Shadeland KIA, we care about our customers. We offer flexible financing, special offers, and excellent customer service to ensure that everyone who visits our dealership has a positive experience.
We take pride in making certain our staff delivers the most pleasant vehicle-buying experience, period. We're not like most dealers that look at every transaction as a sale. Our goal is to truly partner with our customers to establish an ongoing relationship in ownership. When you buy your new Sedona from Ray Skillman Shadeland KIA Mitsubishi, you're buying your own personal service crew that will keep you on the road and up-to-date for years to come.

New Sedona Carmel
Ray Skillman Shadeland KIA Mitsubishi has the perfect new Sedona for you. Find it here, along with Carmel' best service and value.

Pre-Owned Sedona Carmel
A fun, ultra-reliable vehicle like the Sedona is always in high demand. That's why we also carry an exciting selection of pre-owned models from which to choose.

Incentives and Rebates
Why not enjoy your new KIA along with the Ray Skillman Shadeland KIA Mitsubishi discount? You can have your cake and eat it, too.
Experience the Skillman Difference
Buying a vehicle is a special experience. We understand that this isn't something our customers do every day, which is why we treat every interaction with the respect that it deserves. Ray Skillman has served the Carmel market for decades because we believe that the community and its people supersede any expectations set by a corporation. This is your community. This is our community. When you are shopping for a new or used car like the KIA Sedona, you expect the experience to match the promise, which is why we are open and transparent every step of the way. Below, you will find more information about the new Sedona. We hope that you'll contact us and allow us the opportunity to show you why buying from the pros at Ray Skillman Shadeland KIA Mitsubishi, is simply the best decision you can make.
Ray Skillman KIA Sedona
There's more to a vehicle demonstration than picking out colors and taking a test drive. At Ray Skillman Shadeland KIA Mitsubishi, we want you to know everything that's important to you in your next new vehicle. The Sedona is uniquely positioned in the Carmel market to satisfy the needs of practical fun lovers everywhere – the Sedona has the proper mixture of exciting performance and sublime comfort that's appealing to Carmel. Our team is here to make sure you're aware of every feature, tip, and maintenance best practice because we take pride in delivering the ultimate shopping experience for our customers. Watch this video to get your engine revving for your new Sedona, and then let Ray Skillman take care of the rest.
Attention to detail is important. You won't miss a thing when you shop at Ray Skillman Shadeland KIA Mitsubishi.
---
We know you have many options when it comes to car dealers in the Carmel area. Our hope is that you will give us the first opportunity to earn your business because of the tremendous experience, great pricing, exciting KIA selection, and our commitment to making your buying experience the most positive one you've ever had when shopping for a vehicle. We stand behind the ideal of delivering the type of respectful engagement that the people of Carmel deserve. If you give us the first opportunity, you'll see why our customers come back time and time again.
---
WHY RAY SKILLMAN SHADELAND KIA MITSUBISHI?
---
Some dealerships take pride in their sales numbers. Others point to their P&L statements to determine their success. At Ray Skillman Shadeland KIA Mitsubishi, the most important indicator of whether or not we're successfully achieving our goals is when YOU are overwhelmed by our outstanding customer experience. It goes beyond satisfaction. We want you to be ecstatic with the way you were treated and impressed with how easy it was to get the best KIA deal in Indiana. Your opinion is the one that matters to us at Ray Skillman Shadeland KIA Mitsubishi. It's what drives our success.
---
Customers Come First
See What Our Customers Are Saying
---
---
Your KIA Shopping Experience
We hope we've answered most of your questions about why you should consider Ray Skillman Shadeland KIA Mitsubishi as your first choice when shopping for a new or pre-owned KIA model. If you are ready to learn more, please contact us through your preferred method of communication and ask us anything you'd like to know. If you're ready to schedule your test drive, please use the form below. At Ray Skillman Shadeland KIA Mitsubishi, you control your shopping experience. We're here to help facilitate and to be your own personal KIA experts.