Kia Optima Fishers IN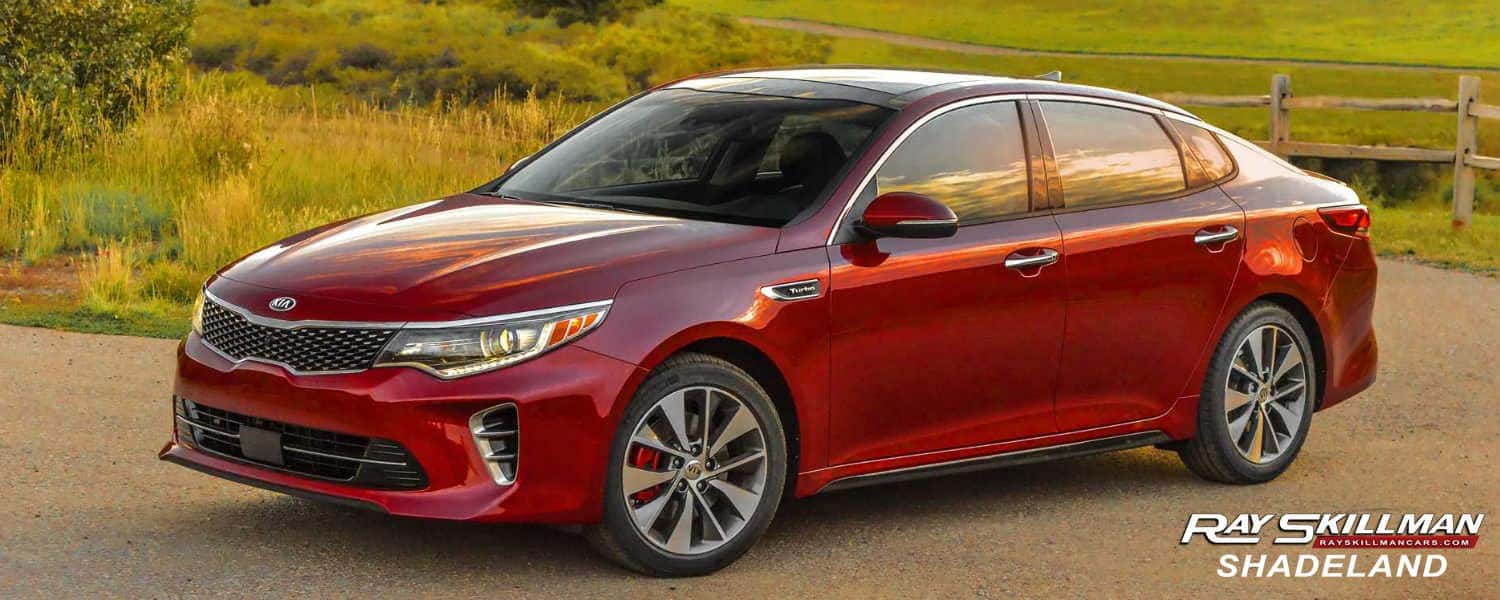 A Drive to Define You
Capable and versatile, the 2018 Kia Optima is a car that screams both "functionality" and "sophistication."
With its exhilarating performance, updated technology, and impressive interior and exterior features, the Optima will draw all eyes to you. Ray Skillman Shadeland Kia Mitsubishi is happy to have an array of these vehicles available in our showroom, and our team can't wait to introduce them to you.
Exhilarating Performance
The 2018 Optima comes with three different powertrain options, all of them offering a unique blend of power and efficiency sure to support your needs. The 2.4-liter engine comes standard, receiving 185 horsepower and offering an EPA-estimated 29 MPG combined (with 25 MPG city/36 MPG highway). The next powertrain is a 1.6-liter Turbocharger engine that is offered exclusively on the Optima LX 1.6T. This engine cranks out 178 horsepower and carries with it a higher EPA-estimated fuel economy of 31 MPG combined (28 MPG city/37 MPG highway). If you're looking for a something with a little more power, why not opt for the 2.0-liter Turbocharger engine, which receives 245 horsepower? This powertrain is offered on the sleek Optima SX and is sure to please any driver who'd like just a little bit more thrills. 
Updated Technology
Who wants to take a drive if the car isn't equipped with superior technology? Kia understands your desire for entertainment, so the Optima comes well-equipped with a wide variety of technology features all designed to help you make the most out of each and every drive. 
Smart technology features on the 2018 Kia Optima include available Apple CarPlay™ and Android Auto™ compatibility which will keep you connected. Standard subscription-free UVO connectivity with a 7-inch Touch-Screen Display offers clever infotainment through an enhanced telematics suite or free app on your smartphone. The free UVO eServices app seamlessly connects your smartphone to your Optima, giving you access to 24-hour roadside assistance, vehicle maintenance requirements, and much more.
Additionally, you can find points of interest with Local Search powered by Google™ (GLS™). Google™ Send-to-Car can send destinations from your smartphone straight to your Optima. Allow the Harman/Kardon® QuantumLogic™ technology to transform your cabin into an astounding surround- sound experience through its 10 different speakers. Now that's impressive!
Features that Impress
An array of interior and exterior features have been outfitted to keep you safe, comfortable, and secure in the 2018 Optima. Along with a quieter, more spacious cabin, the Optima offers an available 12-way power adjustable driver's seat, an available heated steering wheel (perfect for those chilly winter mornings!), and available heated and ventilated front seats. Rear sunshades are available to keep your passengers safe from the sun, and charging ports are located in convenient locations so everyone can easily charge all of their devices.
The sporty curves of the Optima is sure to turn heads, along with its strong, signature Tiger nose grille. And with the vehicle's 5-Star Crash Safety rating from the National Highway Traffic Safety Administration (NHTSA), it certainly backs up those looks with ability. Standard safety features include the Traction Control System (TCS), which helps avoid wheel spin when you accelerate, and Electronic Stability Control (ESC) helps you stay on course with improved stability. Vehicle Stability Management (VSM) offers increased steering control when driving in harsh road conditions (such as wind or snow), and Hill-Start Assist Control (HAC) helps keep your vehicle in place as you move off of an incline.
Have a question about any of these features? Ask one of the experts on the Ray Skillman Shadeland team and we'll be sure to help you out.
Take Home Your Ray Skillman Shadeland Kia Optima Today
The Kia Optima is a versatile sedan that can suit all your needs, whether that's cruising around town on the weekends or making the daily commute to work. Our team at Ray Skillman Shadeland has never been more excited to introduce you to this thrilling vehicle and all it has to offer you. What are you waiting for? Let us match you to your perfect Kia Optima today. Come on out for a test drive!
At Ray Skillman Shadeland KIA, we care about our customers. We offer flexible financing, special offers, and excellent customer service to ensure that everyone who visits our dealership has a positive experience.
We take pride in making certain our staff delivers the most pleasant vehicle-buying experience, period. We're not like most dealers that look at every transaction as a sale. Our goal is to truly partner with our customers to establish an ongoing relationship in ownership. When you buy your new Optima from Ray Skillman Shadeland KIA Mitsubishi, you're buying your own personal service crew that will keep you on the road and up-to-date for years to come.

New Optima Fishers
Ray Skillman Shadeland KIA Mitsubishi has the perfect new Optima for you. Find it here, along with Fishers' best service and value.

Pre-Owned KIA Fishers
A fun, ultra-reliable lineup of vehicles like KIA is always in high demand. That's why we also carry an exciting selection of pre-owned models from which to choose.

Incentives and Rebates
Why not enjoy your new KIA along with the Ray Skillman Shadeland KIA Mitsubishi discount? You can have your cake and eat it, too.
Discover Why the Optima Outshines the Competition in 2020
The Kia Optima continues to be the go-to option for drivers who want a loaded sedan at an affordable price. It comes loaded with more of the safety and tech features you want at its base-level trims but has plenty of upgradable luxury options as well.
The problem with being number one is that everyone else is shooting for your spot. That means everyone is trying to build a midsize sedan that can topple the Kia Optima. While there have been some valiant efforts to do so, no other car on the road can beat the Optima.
2020 Kia Optima vs 2020 Honda Accord
While the Honda Accord is a solid choice sedan, it lacks in some of the areas that matter most to you. Here are just some of the ways the 2020 Kia Optima outshines the 2020 Honda Accord.
• More engine options
• More Alternative Fuel Options
• A Bigger Gas Tank means fewer stops at the pump
• Larger touchscreen-infotainment center
• Two additional speakers
• Apple CarPlay/Android Auto come standard instead of as an upgrade option
• Lower MSRP
• A 10-year/10,000-mile warranty that overshadows Honda's mere 5-year/60,000-mile version
2020 Kia Optima vs 2020 Nissan Altima
The Nissan Altima came out with some bold changes to help give it a more distinct look and feel. While it's more competitive than ever, it has some ways to go to really rival the Optima. Here's why the Optima is the better choice:
• More engine options
• The Altima doesn't have a hybrid option
• Nissan's 5-year/60,000-mile warranty is no match for Kia's 10-year/100,000-mile deal
• Lower MSRP
Schedule a test drive to see all of the Optima's engine options in action.
2020 Kia Optima vs 2020 Chevy Impala
While the Chevy Impala is still in production, it seems that its days are numbered. It's a fine sedan, but drivers are moving away from this option towards more popular cars like the Kia Optima. Here's why:
• Better fuel economy
• 8-speed automatic transmission with Sportmatic instead of a simple 6-speed tranny
• More passenger space
• More speakers
• Standard heated seats
• 5-years/40,000-miles more on its warranty
• ~$6,000 lower MSRP
Give us a call to learn more about how our service team can keep your Kia running even longer.
2020 Kia Optima vs 2020 Toyota Camry
The Toyota Camry is the flagship sedan in the Toyota lineup. The newest edition makes the Camry the best version of itself yet. Here's why it still doesn't match the Optima:
• More powertrain options
• More front-seat head and legroom
• Bigger trunk
• Larger infotainment center
• Standard lumbar support and rear folding seats
• Five more years or 40,000 more miles in its warranty
• Lower MSRP
Save More with Ray Skillman
While the Kia Optima offers more options at a lower price than the competition, there are always more ways to save. Take some time to explore our website to find a host of promotions, sales, incentives, and more. We believe in making every effort to ensure that you find the right vehicle for your needs at a price that fits your budget. Stop by and see how you can drive the first-place Optima home today.
Ray Skillman KIA Optima
There's more to a vehicle demonstration than picking out colors and taking a test drive. At Ray Skillman Shadeland KIA Mitsubishi, we want you to know everything that's important to you in your next new vehicle. The Optima is uniquely positioned in the Fishers market to satisfy the needs of practical fun lovers everywhere – the Optima has the proper mixture of exciting performance and sublime comfort that's appealing to Fishers. Our team is here to make sure you're aware of every feature, tip, and maintenance best practice because we take pride in delivering the ultimate shopping experience for our customers. Watch this video to get your engine revving for your new Optima, and then let Ray Skillman take care of the rest.
Attention to detail is important. You won't miss a thing when you shop at Ray Skillman Shadeland KIA Mitsubishi.
---
We know you have many options when it comes to car dealers in the Fishers area. Our hope is that you will give us the first opportunity to earn your business because of the tremendous experience, great pricing, exciting KIA selection, and our commitment to making your buying experience the most positive one you've ever had when shopping for a vehicle. We stand behind the idea of delivering the type of respectful engagement that the people of Fishers deserve. If you give us the first opportunity, you'll see why our customers come back time and time again.
---
WHY RAY SKILLMAN SHADELAND KIA MITSUBISHI?
---
Some dealerships take pride in their sales numbers. Others point to their P&L statements to determine their success. At Ray Skillman Shadeland KIA Mitsubishi, the most important indicator of whether or not we're successfully achieving our goals is when YOU are overwhelmed by our outstanding customer experience. It goes beyond satisfaction. We want you to be ecstatic with the way you were treated and impressed with how easy it was to get the best KIA deal in Indiana. Your opinion is the one that matters to us at Ray Skillman Shadeland KIA Mitsubishi. It's what drives our success.
---
Customers Come First
See What Our Customers Are Saying
---
---
Your KIA Shopping Experience
We hope we've answered most of your questions about why you should consider Ray Skillman Shadeland KIA Mitsubishi as your first choice when shopping for a new or pre-owned KIA model. If you are ready to learn more, please contact us through your preferred method of communication and ask us anything you'd like to know. If you're ready to schedule your test drive, please use the form below. At Ray Skillman Shadeland KIA Mitsubishi, you control your shopping experience. We're here to help facilitate and to be your own personal KIA experts.